Wordpress, Wix .. great products. .. But it's time for more. Much more.
Hello readers,
The goal of this article is to snapshot the trends in web development in first place. The second goal is to explain more about our product (AppSeed), in this complex picture full of technologies & fast changes. Let's go! .. reality in 2018 looks like this: (credits/stats from StackOverflow):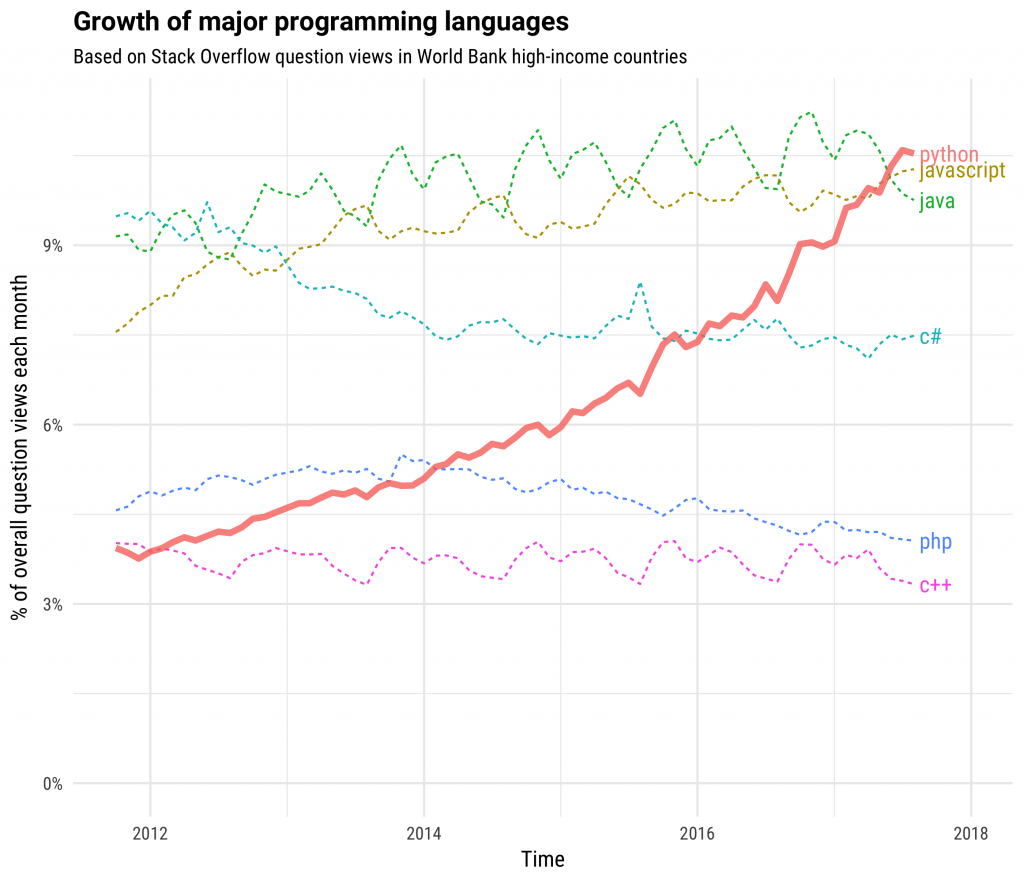 Now, regarding web development, let's compare used frameworks and say something about the future.
The Past in web development:
Wordpress, Drupal & "the gang" - impressive CMS's a few years ago when Php was the master & commander in web development. Issues with this heavy CMS's:
- Tied to Php (we can see in the chart that Php popularity is going down)
- Require plugins to use it in production for GDPR, Analytics, SEO
- Performance issues & SEO issues. Yep, it's quite hard to have a fast & SEO friendly website in WordPress.
The present:
Wix, Weebly & DYI concept - Wix "educate" users to build themselves the website. Clever move .. if the user builds something he cannot complain about the final product. For sure this concept it's a money maker right now.  Issues:
- SEO & performance
- Low sales for Wix websites because users are not aware of sales conversion techniques like button positioning, call to actions .. etc.
- Users Jail - if you need an extension unsupported by the platform, you're fucked up. The code belongs to Wix. Sorry :)
The Future:
Trends are showing that serverless architecture is the future. Some impressive frameworks, in our opinion:
- Gatsbyjs - apps and websites in React
- Jekyllrb - Transform your plain text into static websites and blogs - #impressive concept & product
- Hugo - open-source static site generator
AppSeed - language independent full stack app generator
The user can get his Full Stack App in Javascript, Python, and Php on top of any web design he wants. Simple use-case:
1. Choose any HTML design from Creative-Tim, TemplateForest or whatever
2. Choose technologies for all layers:
   - Frontend: React, Vue, jQuery
   - Backend: Node.js, Flask, Django, Laravel, Fastify
   - Database: SQLite, MySql, MongoDB
AppSeed will generate your full stack app with preferred HTML design in minutes. Other assets:
- The source code belongs to the user
- The code base is tested & clean because is generated
- Deployment is automatized on VPS, AWS, and Heroku servers
AppSeed aim to build full-stack apps in a language-independent way and to automatize entirely the HTML design integration into a web app.  [ read more about HTML theme processing here ]

Related Content: Full Stack App in CodeIgniter on top of Argon Design from Creative-Tim.