Features: authentication, helpers, theme-based architecture
What is CodeIgniter?
CodeIgniter is a powerful PHP framework with a very small footprint, built for developers who need a simple and elegant toolkit to create full-featured web applications. in 2018, this framework was in top 5 PHP frameworks used by web developers worldwide.
Build React, Vue Apps integrated with Laravel backend in no-time.
Design: Now UI Kit - Official product description (Creative-Tim)
Responsive Bootstrap 4 kit provided for free by Invision and Creative Tim. It is a beautiful cross-platform UI kit featuring over 50 elements and 3 templates.
Few words about full stack apps usage. Why we did this kind of products.
First, a full stack app is built by seniors and besides that, all apps offer modern architecture, tested modules, helpers, documentation, and support. All our full stack apps are delivered production-ready with comprehensive README files for installation and usage. If something is missing, don't hesitate to contact us. we are here to help :)
Items included in this coded app:
Design: (Now UI Kit) enhanced with components extracted for Laravel, Flask, plain Php and HTML.
Application design: Now UI Kit by Creative-Tim, the well-known 2018 design rising star.  Check out the DEMO
Theme based architecture: you can easily change the design by updating one line in config.
Framework: CodeIgniter (latest stable version 3.1.9)
Auth system: CodeIgniter-Ion-Auth with more than 2k stars on @Github
Helpers: Authentication (written on top of Ion-Auth library) and Common Helpers: session, validation, files
Assets File and Helpers - to ease the injection & management of global data
3rd party libraries: Google Analytics (id editable in the assets file)
Server Side Resources: htAccess Sample for URLs and SEO optimization
Free Support: via Facebook
HTML & Php (production-ready) components for CodeIgniter, Blade (Laravel) and Jinja2 Flask on @Github
This coded app (released under MIT license) help developers to focus on specific web app features without reinventing the wheel because the common modules are already coded and tested. In case something is missing from our release, don't hesitate to give us a call.
Need a free dashboard?
Material Dashboard is a free Material Bootstrap 4 Admin with a fresh, new design inspired by Google's Material Design. Material Dashboard Design was built over the popular Bootstrap 4 framework and it comes with a couple of third-party plugins redesigned to fit in with the rest of the elements. Our engine integrates this popular design into a popular PHP Framework (CodeIgniter) and makes it all public.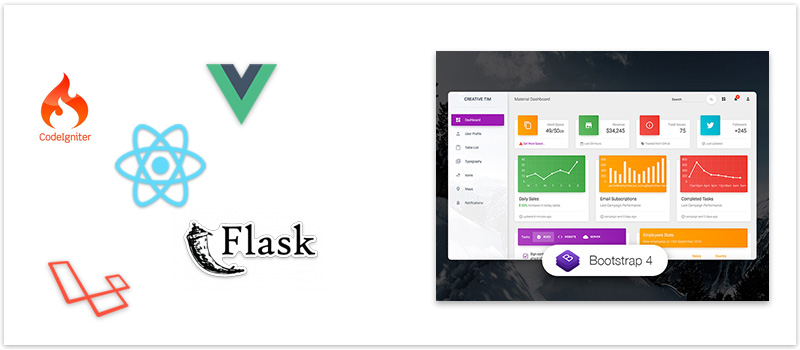 If you are looking for a dashboard to use into your projects, check out this list. All apps are coded in CodeIgniter.