Paper Dashboard - coded in CodeIgniter, Laravel, Flask and Node.js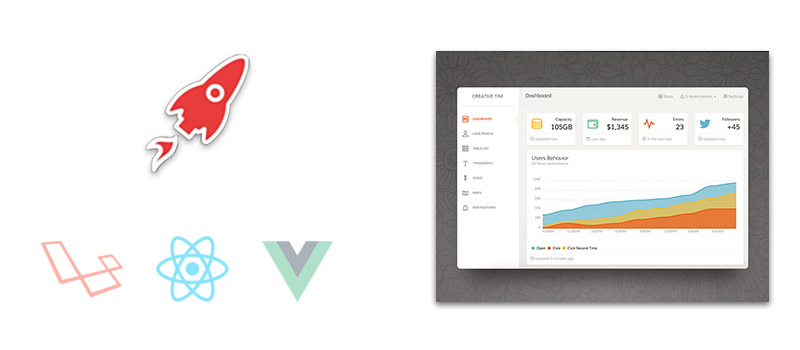 You are here because of CodeIgniter framework. Great choice. In case you want to move to Vue, or React, try read these articles: Free Vue.js themes, React themes. Thank You, I'm out!
Paper Dashboard
Few words about Full Stack Concept
A short description can be Full Stack = Backend + Frontend .. and a sort of storage/database somewhere in between. Basically, using a Full Stack Web app, all layers are covered, tested, stable and production-ready. Just like these web apps generated by AppSeed on top of Light Bootstrap Dashboard design.
Product description (from Creative-Tim):
If you are a developer or a website owner that needs to work within a dashboard and want to have a pretty sight while doing so, Paper Dashboard is for you. Paper Dashboard is a Bootstrap Admin Panel which combines soft colors with beautiful typography and spacious cards and graphics. It is a powerful tool, but it is light and easy to use. It has enough features to allow you to get the job done, but it is not crowded to the point where you can't find the files for a specific plugin.

What's in the box:
Despite the programming language used by backend or frontend, all our full-stack web apps will include:
Optimal design pattern, modular source code, documented source code
Features: authentication, registration, basic helpers (to manage sessions, files), ORM, comprehensive README for usage and deployment.
Architecture: theme based (new HTML design will be integrated with ease, without updating the core)
Releases for this design (MIT License):
CodeIgniter / Jquery: DEMO / Github Sources
Flask / Vue: (coming soon, available via pre-order)
Flask / React: (coming soon, available via pre-order)
Laravel / Vue: (coming soon, available via pre-order)
Note: Stacks available for pre-order will provide the same features (authentication, registration, SQL scripts, deployment scripts)