Modules: Authentication (Ion-Auth), Helpers, htAccess sample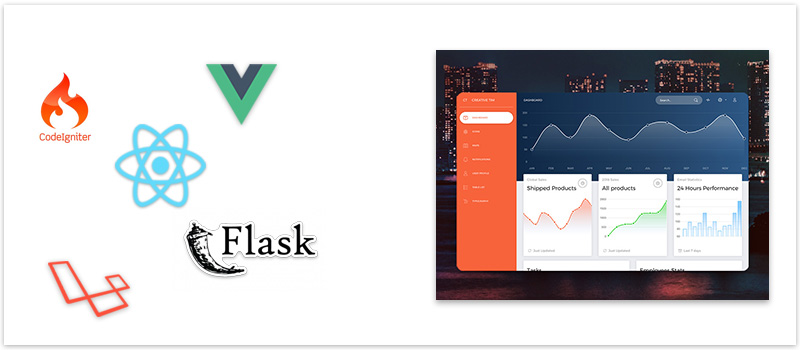 CodeIgniter / jQuery - Full Stack App
About CodeIgniter framework:
CodeIgniter is a PHP-driven framework, containing a bunch of helpers, libraries, plug-ins, and other resources, that takes care of many of the more complex procedures and functions for which PHP is famous. CodeIgniter does all the heavy lifting for you while maintaining high performance. It will simplify PHP syntax, streamline the code underlying your web pages, and—best of all—have you churning out dynamic, interactive, professional websites in no time, or at least speed up your developement.
Build React, Vue Apps integrated with Laravel backend in no-time.
Design description (from Creative-Tim):
Now UI Dashboard is a responsive Bootstrap 4 kit provided for free by Invision and Creative Tim. It combines colors that are easy on the eye, spacious cards, beautiful typography, and graphics. Now UI Dashboard comes packed with all plugins that you might need inside a project and documentation on how to get started. It is light and easy to use, and also very powerful.
This full stack app prototyped in CodeIgniter and jQuery can be a good base for learning or production deployment. Your choice :).
Check out bellow some goodies added by us:
Backend / Frontend: CodeIgniter / jQuery
Design: Now UI Dashboard
Modules: authentication (Login, Logout, Register).
ORM: Propel - ORM library for PHP
Templating: CodeIgniter native
License: MIT / Sources
Support & Updates: Free for Registered Users. Please Register to get support and free updates.
Need more free dashboards?
Material Dashboard is a free Material Bootstrap 4 Admin with a fresh, new design inspired by Google's Material Design. Material Dashboard Design was built over the popular Bootstrap 4 framework and it comes with a couple of third-party plugins redesigned to fit in with the rest of the elements. Our engine integrates this popular design into a popular PHP Framework (CodeIgniter) and makes it all public.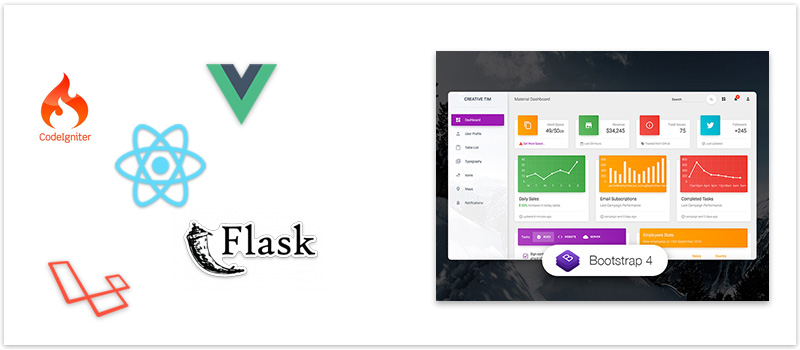 If you are looking for a dashboard to use into your projects, check out this list. All apps are coded in CodeIgniter.