Paper Dashboard Modules: Authentication, Helpers, Deployment Scripts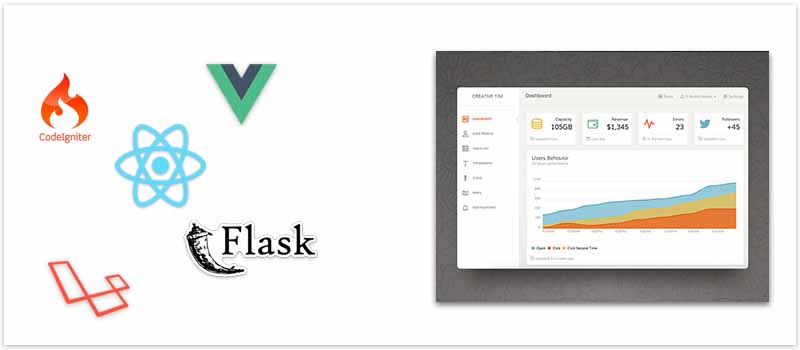 What is CodeIgniter?
CodeIgniter is a powerful PHP framework with a very small footprint, built for developers who need a simple and elegant toolkit to create full-featured web applications. in 2018, this framework was in top 5 PHP frameworks used by web developers worldwide.
Design: Paper Dashboard by Creative-Tim
If you are a developer or a website owner that needs to work within a dashboard and want to have a pretty sight while doing so, Paper Dashboard is for you. Paper Dashboard is a Bootstrap Admin Panel which combines soft colors with beautiful typography and spacious cards and graphics. It is a powerful tool, but it is light and easy to use. It has enough features to allow you to get the job done, but it is not crowded to the point where you can't find the files for a specific plugin.
This full-stack app can be a good base for learning or development. Because the code is written by experts, the product can be used right away in production.
Modules: authentication (login, logout, register).
Templating: CodeIgniter native
License: MIT - Sources will be available on Github
Free Support and Updates (registered users only)
Need more free dashboards?
Material Dashboard is a free Material Bootstrap 4 Admin with a fresh, new design inspired by Google's Material Design. Material Dashboard Design was built over the popular Bootstrap 4 framework and it comes with a couple of third-party plugins redesigned to fit in with the rest of the elements. Our engine integrates this popular design into a popular PHP Framework (CodeIgniter) and makes it all public.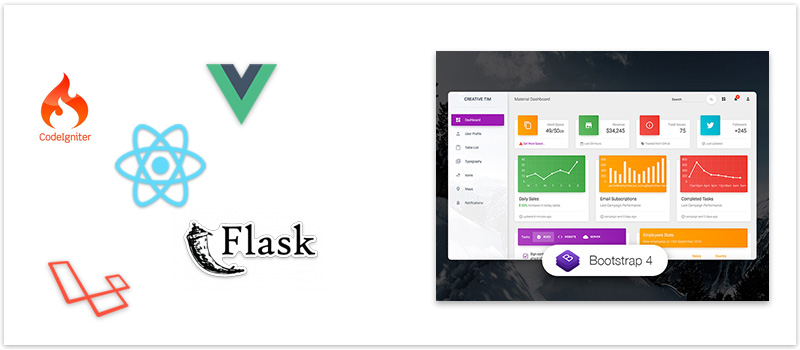 If you are looking for a dashboard to use into your projects, check out this list. All apps are coded in CodeIgniter.